Top Ten Tuesday is a weekly meme hosted by That Artsy Reader Girl. This week's topic is a character freebie!
July 9th, 2019: Favourite Characters
Holden Caulfield from The Catcher in the Rye by JD Salinger
I love Holden because he is at times brilliantly incisive and at times an absolute douchebag… He is basically me as a teenager. I fell in love with him when I was just fifteen years old not because I thought he was cute or funny or any of that, but because I related to him. I empathised with his situation. He was the first character in a book that felt truly real to me. He felt just like me. He was lost, he was confused, he was smart, he was pissed off… he was everything I needed to find in a book to help me find myself and I love him with all my heart for that.
---
Ifemelu from Americanah by Chimamanda Ngozi Adichie
I love Ifemelu because she doesn't take crap from anyone. She is very much of her own mind and basically takes complete ownership over her own personhood. She doesn't care if you don't like her, she just speaks her truth. She is complicated, at times difficult to love, she can be an utter tosser, she is brilliant, she can be supremely caring… She is just everything.
---
Jane Eyre from Jane Eyre by Charlotte Bronte
Jane Eyre is such a strange fish!! And I mean that as a compliment.
"No sight so sad as that of a naughty child," he began, "especially a naughty little girl. Do you know where the wicked go after death?"
"They go to hell," was my ready and orthodox answer.
"And what is hell? Can you tell me that?"
"A pit full of fire."
"And should you like to fall into that pit, and to be burning there for ever?"
"No, sir."
"What must you do to avoid it?"
I deliberated a moment; my answer, when it did come, was objectionable: "I must keep in good health, and not die."
Jane is unlike any other character I have ever read about. She is exceedingly singular in her modus operandi, holds herself to the highest of moral standings and is unwavering with regard to her beliefs even to the detriment of her happiness. And I could not help but admire her. She refuses to compromise herself for love; refuses to be someone else.
How many times have I read of weak-willed heroines who look to change themselves for love?
Who lose themselves in their relationships?
Who mould themselves to a form that others think is becoming?
Jane Eyre does none of these things. Oh yes she absolutely loves fiercely, and wholly, and eternally… But she does not let this love define her.
---
Circe from Circe by Madeline Miller
Circe is just fantastic. As a character she goes through such a journey of self. I love how Miller gave her motivation, feelings… just reason to all her actions and she felt like this fully realised and authentic character that didn't feel like some untouchable goddess but a living, breathing human.
And look at this for low key shade at Homer from the book…
"Later, years later, I would hear a song made of our meeting. The boy who sang it was unskilled, missing notes more often than he hit, yet the sweet music of the verses shone through his mangling. I was not surprised by the portrait of myself: the proud witch undone before the hero's sword, kneeling and begging for mercy. Humbling women seems to me a chief pastime of poets. As if there can be no story unless we crawl and weep."

YASSSSSS QUEEN CIRCE!!!! You salt the patriarchy and the singular viewpoint that has been foisted on us since forever.
---
The unnamed female narrator from Chemistry by Weike Wang
The unnamed narrator is one of the most human characters you could ever read about. She's so honest. Brutally honest. She's incredibly insecure. At times unlikeable even. She's got a unique sense of humour and is plagued with guilt. Guilt stemming from a need to succeed and that need not coming to fruition.
I guess you could say this is yet another of those books featuring a lost twenty something searching for the answers to life's big questions. But to me this is so much more than that because of the authenticity of the unnamed narrator. How we get to live inside her brilliant mind; how she is hopelessly flawed with her approach to everyday life and yet is deeply incisive about the greater questions of life.
I love this character with all my heart.
---
Arthur Dent from The Hitchhiker's Guide to the Galaxy by Douglas Adams
What can I say about Arthur? He is the epitome of ordinary. He grounds this most zany of novels with his charming ordinariness.
"You know," said Arthur, "it's at times like this, when I'm trapped in a Vogon airlock with a man from Betelgeuse, and about to die of asphyxiation in deep space that I really wish I'd listened to what my mother told me when I was young."

"Why, what did she tell you?"

"I don't know, I didn't listen."
---
Fanny Price from Mansfield Park by Jane Austen
Fanny Price frequently gets a bad rep for being dull and boring or much too pious; for not having the same spark or fieriness as an Elizabeth Bennett or an Emma Woodhouse.
Yet I absolutely adore her.
And it's probably because of all these things because I don't see them as character flaws but rather something that makes her feel very honest to me as the reader. It's her ordinariness that I think I love the most. I found her to be the most real of Austen's female protagonists because she is so hopelessly flawed and insecure. She doesn't even have quite that same romantic starring role as Austen's other female protagonists in the storyline either. It's almost as if she is a supporting character in her own novel because of the myriad things going on at Mansfield Park and of the focus of the novel on what it means to be poor or supposedly less than those in the higher classes. But yet amidst all this, Fanny somehow is able to bring forth this undeniable strength and independent will from underneath her insecurities.
And it is that indomitable will that has always appealed to me. In spite of her shyness and her quietness she finds her own way to be the kind of person she wants to be.
---
Hazel Grace from The Fault in Our Stars by John Green
I love Hazel Grace because I can empathise with her situation of being ill as a teenager. I became ill as a teen and I found it separated me from the rest of my peers. And when I read TFiOS I found that part of my life represented by Hazel. And that representation is best illustrated in this quote that shows the widening gap between Hazel and her school friend Kaitlyn as their lives have taken such vastly different paths.
"I liked Kaitlyn. I really did. But three years removed from proper full-time schoolic exposure to my peers, I felt a certain unbridgeable distance between us. I think my school friends wanted to help me through my cancer, but they eventually found out that they couldn't. For one thing there was no 'through'. So I excused myself on the grounds of pain and fatigue as I often had over the years when seeing Kaitlyn or any of my other friends. In truth it always hurt … so I wasn't lying exactly. I was just choosing among truths"
---
Frankie from A Line Made by Walking by Sara Baume
Frankie is a woman in her mid twenties, who flees from her life in the city to take shelter in her deceased grandmother's house in the Irish countryside. Frankie is very much the disaffected millennial. Awkward in the company of others and unable to come to terms with this adult version of her. The book shows her struggles with depression, with identity and with the basic functions of living and breathing in our ever more demanding and material driven world. And it is the honesty of the writing of Frankie's character that makes me truly love her.
---
Mr Darcy from Pride and Prejudice by Jane Austen
I just love Darcy. Initially he is snobby, uptight and downright ridiculous… but then as the story evolves he just becomes the best book boyfriend ever and my girlish heart will forever adore him.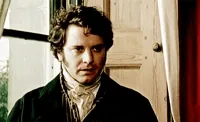 Also it helps that in my mind's eye he looks like either like Colin Firth or Matthew MacFadyen…
"In vain have I struggled. It will not do. My feelings will not be repressed. You must allow me to tell you how ardently I admire and love you."
And that's my list! What do you guys think? Who are your top ten favourite literary characters of all time? Let me know in the comments below.