Thursday Discussion is a fortnightly meme started by the lovely Ally @Ally Writes Things. Head to her page to see a list of upcoming topics.
Thursday, 3rd October 2019 – Celebrating 'Mean Girls Day' Books with Pink on the Cover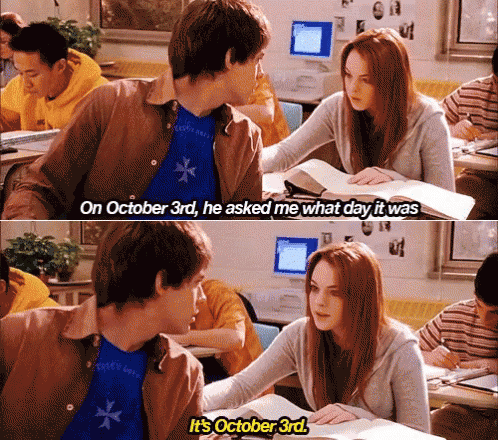 Who doesn't love the film Mean Girls???? Definitely up there in my list of High School based films… Clueless takes top spot for me though, then Ten Things I Hate About You… but discussing High School films isn't the point of this post is it….
Anyway!!
BOOKS WITH PINK ON THE COVER!!!
Pink is my favourite colour! A really deep cerise to be exact but I do love all shades. And it's so freaking annoying how people get it in their head that books with pink on the cover are only for women, or are sort of ditsy, have little to no substance
URGHHHH….
I AM JUST SO TIRED OF THE GENDER STEREOTYPING PEOPLE!!!
So today I'm coming at you with one of my fav books with a pink cover… I give to you all the fabulousness that is Queenie by Candice Carty Williams!! Yes I know this book also comes in orange and blue… and maybe green and yellow??? I can't remember exactly but my copy is perfectly pink.
People this book is freaking fabulous!! Queenie is the MOST relatable main character… I just love her okay. When the powers that be were marketing this book they kept saying that it is Bridget Jones for the #MeToo era and no disrespect to Bridget Jones because I blimmin' love that book but Queenie has sooooo much more gravitas. She's more Fleabag than Bridget really…
Queenie's voice is just so authentic. She is terribly messed up… but in the ways that I think many of us in our twenties and thirties are messed up with our insecurities and self loathing. She might just be further along the spectrum of self loathing especially when it comes to her relationship with sex.
Her relationships with her female friends are so realistic too… she's got this little Queenie what's app chat going on in the book and I was like you are totally narcissistic Queenie but wow do I identify because it reminded me of chats that I have with some of my female friends and how we can almost lose ourselves to being self-centred… I'm not explaining this book very well but basically Queenie is a warts and all type of character that we will either relate to on a personal level because she has aspects of our individual personalities or she will remind you of one of your best friends.
But this book basically ripped my heart out and served it to me on a platter. Oh the feels…
Authentic, visceral, honest, painful, hilarious…
Simply genius.
'Queenie' is women's fiction FOR EVERYONE!!!!!!!!! Just because it is women's fiction does not mean that this is not for anyone that does not identify as a woman…
Gosh I read an amazing blog post the other week about why women's fiction is needed much like feminism is needed because it gives a platform on which to raise women's stories but that does not mean it is excluding of anyone else…. IF THIS WAS YOUR BLOG POST PLEASE COMMENT BELOW AND I WILL LINK TO IT!!!! I am sooooooo sorry that I cannot remember whose blog it was.
ALSO!!!! YASSS FOR DIVERSE VOICES!!!!!!!!! This book is about a woman of colour and I feel it is so important for us all to read diversely. We all need to read about people who look different to us, who have a different background to ours, who identify as a different or no gender, who have disabilities, illnesses… whatever WE ARE ALL PEOPLE AND THE MORE WE READ ABOUT OUR DIFFERENCES THEN THE MORE WE WILL REALISE THAT WE ARE ALL THE SAME UNDERNEATH. WE ALL JUST WANT TO BE LOVED AND TO BE HAPPY!!!!!!!!!!!!!!!!!
Sorry for the impassioned vox pop…. I get carried away sometimes.
Anyway I'm just gonna leave you with the blurb of this book from Goodreads and urge you all to read this amazing book!!!!
Bridget Jones' Diary meets Americanah in this disarmingly honest, boldly political, and truly inclusive novel that will speak to anyone who has gone looking for love and found something very different in its place.

Queenie Jenkins is a 25-year-old Jamaican British woman living in London, straddling two cultures and slotting neatly into neither. She works at a national newspaper, where she's constantly forced to compare herself to her white middle class peers. After a messy break up from her long-term white boyfriend, Queenie seeks comfort in all the wrong places…including several hazardous men who do a good job of occupying brain space and a bad job of affirming self-worth.

As Queenie careens from one questionable decision to another, she finds herself wondering, "What are you doing? Why are you doing it? Who do you want to be?"—all of the questions today's woman must face in a world trying to answer them for her.

Add it to your Goodreads shelves by clicking HERE