Title: Finding Felicity
Author: Stacey Kade
Genre/Themes: Young Adult, Contemporary, Loneliness, Making Friends, Socially Awkward, Introverted, University Life
Blurb from Goodreads
Felicity meets Fangirl in this contemporary novel about a young woman who must leave behind her fantasy life—inspired by her favorite WB show from the 1990s—and create a real one at college.
Caroline Sands has never been particularly good at making friends. And her parents' divorce and the move to Arizona three years ago didn't help. Being the new girl is hard enough without being socially awkward too. So out of desperation and a desire to please her worried mother, Caroline invented a whole life for herself—using characters from Felicity, an old show she discovered online and fell in love with.
But now it's time for Caroline to go off to college and she wants nothing more than to leave her old "life" behind and build something real. However, when her mother discovers the truth about her manufactured friends, she gives Caroline an ultimatum: Prove in this first semester that she can make friends of the nonfictional variety and thrive in a new environment. Otherwise, it's back to living at home—and a lot of therapy.
Armed with nothing more than her resolve and a Felicity-inspired plan, Caroline accepts the challenge. But she soon realises that the real world is rarely as simple as television makes it out to be. And to find a place where she truly belongs, Caroline may have to abandon her script and take the risk of being herself.
My Review
Heard about this book with a main character that is obsessed with one of my absolute fav teen shows from back in the day, Felicity, so immediately threw my money at Amazon in order to buy a hugely overpriced hardback import just so I could indulge in some 90s nostalgia because *basic *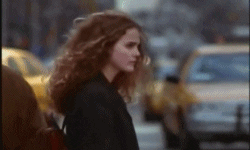 Look at that hairography… Omg I remember when Felicity cut her hair and it was like the MOST talked about thing ever… GOOD TIMES!!!!!!!!!
Also TEAM NOEL FOR LIFE!!!!!!!!!!
Suck it Ben!!!!!!!!!! *cackles hysterically*
But about the book…
It was perfectly lovely.
A salve to my soul if you will. It maybe didn't change my world but I happily lost myself in its pages for a few hours.
I really liked Caroline, the incredibly awkward and painfully introverted MC. I think a lot of us who are readers have those introverted tendencies, perhaps not to Caroline's extreme, but it was nice to read a quiet YA about a quiet character struggling to reinvent herself in time for university life.
And definite brownie points for referencing Felicity, not that you need to know one thing about that classic to follow the storyline.
I just really, really liked this!! A LOT!!!
My Socials