Thursday Discussion is a fortnightly meme started by the lovely Ally @Ally Writes Things. Head to her page to see a list of upcoming topics.
Books I Need to Read Before the End of 2019
Oh LOL at this week's topic…
As a mood reader who avoids making TBR lists for a given period of time this topic is just not for me.
There is just one book that I know I will be reading before the end of the year and that is 'Frankly in Love' by David Yoon because it is my book group's chosen readalong for December.
BLURB FROM GOODREADS:
High school senior Frank Li is a Limbo–his term for Korean-American kids who find themselves caught between their parents' traditional expectations and their own Southern California upbringing. His parents have one rule when it comes to romance–"Date Korean"–which proves complicated when Frank falls for Brit Means, who is smart, beautiful–and white. Fellow Limbo Joy Song is in a similar predicament, and so they make a pact: they'll pretend to date each other in order to gain their freedom. Frank thinks it's the perfect plan, but in the end, Frank and Joy's fake-dating maneuver leaves him wondering if he ever really understood love–or himself–at all.
I have pretty much avoided all spoilers about this book because I am VERY excited to read it and want to know very little about the plot. All I know there is fake dating and I am here for it.
WHO DOESN'T WANT TO READ A BOOK WITH FAKE DATING????
It's one of my favourite bookish tropes!!!!
I only hope that there is a scene or line like this in the book: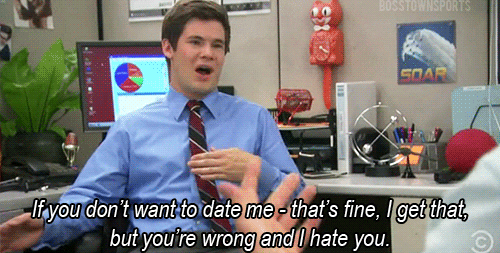 So that's it… just the one book on my TBR for the remainder of 2019. I mean I have some arcs too but nothing that needs to be read before February 2020 so I'm breezy!!!