My dear blogging friend Autumn @Chapter Malliumpkin has nominated me for my tenth sunshine blogger award… And I am so overcome with good feeling. The Sunshine Blogger Award is such a lovely award as it is all about spreading love and kindness and to be nominated by Autumn really means a lot because she is the personification of love and kindness. You guys believe me when I tell you that you need to be following Autumn's blog. She is such a beacon of light and positivity in this frequently cold world. She also has the most gorgeous instagram account that I also highly recommend following.
What is the Sunshine Blogger Award?
The Sunshine Blogger Award is given to those who are creative, positive and inspiring while spreading sunshine to the blogging community.
How does it work?
Thank the blogger(s) who nominated you in a blog post and link back to their blog.
Answer the 11 questions set by the person who nominated you.
Nominate 11 new blogs to receive the award and write them 11 new questions.
List the rules and display the Sunshine Blogger Award logo in your post and/or on your blog.
Questions set by Autumn
(1) What is your least favourite book of 2019 so far?
Ooh toughie… I have a few. I really did not like Alice Oseman's Solitaire. I feel quite annoyed by Kiersten White's The Dark Descent of Elizabeth Frankenstein, offended by the problematic ending of Abby Jimenez' The Friend Zone and supremely disappointed by David Nicholls' Us.
(2) What are the top three books you're head over heels for?
All time? The Catcher in the Rye by JD Salinger, Pride and Prejudice by Jane Austen and The Fault in Our Stars by John Green.
(3) What is your favourite drink to have by your side while you read?
Typically water but I do love a hot chocolate on these colder days;
(4) What was one book you were obsessed with in middle school?
I'm going to equate middle school to primary school here. I was obsessed by A LOT of books.
Little Women by Louisa May Alcott was an early childhood favourite.
So too was When Hitler Stole Pink Rabbit by Judith Kerr,
Any Nancy Drew book I could get my hands on was read. Ditto to Sweet Valley High and Point Horror books.
I was obsessed by any boarding school set Enid Blyton book.
The Keven and Sadie series of books written by Joan Lingard were early young adult style books that I was a huge fan of.
Michelle Magorian was a much loved author with my preference being for Back Home over Good Night Mister Tom
Basically I read A LOT as a child. I have always been a reader!
(5) Do you annotate your books?
Sometimes I do! If a book is really moving me (and it's not a library book nor a hardback) then I will highlight quotes and passages and will also write little thoughts in the margins.
(6) Halloween is coming up, what fictional character are you dressing up as and why?
I'm not really a Halloween fan at all! I liked that it coincided with half term break at school but otherwise it's always a bit of a non-event for me I find. Christmas on the other hand… So I won't be dressing up as anyone this year but if I were to be a bookish character I would like to dress as a female version of Arthur Dent from Hitchhiker's… basically because it would mean I get to wear a dressing gown and pjs!!!!!!!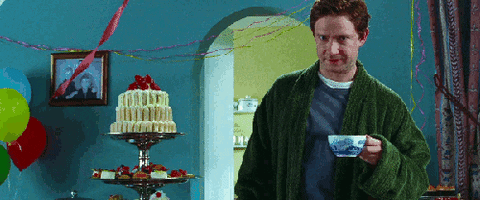 (7) If you had to pick one book to be your top favourite book for 2019, what book would it be and why?
Oooh that is another tough question because right now I have a top 3 and I am unsure of what order in which to put them so let's go in the order I read them;
My Dark Vanessa by Kate Elizabeth Russell because it is simply a masterful piece on the narrative of victimhood and the agency of such.
The Confession by Jessie Burton because it has truly amazing female characters that deeply touched my soul
Please Read This Leaflet Carefully by Karen Havelin because it was an amazingly accurate portrayal of life with chronic pain which is what my life is.
(8) If you could go on a vacation right now, where would you go and why?
I would pack my bags and visit my best friend in the USA… Or I'd really like to go to London and watch a few West End shows!
(9) What are some of your favourite ways of giving yourself self-care?
Reading is my main way. And also working on my blog. Drafting posts for my blog really engages my brain and stops me from over thinking and is a very valuable source of self-care for me
(10) If you could be a tea dragon, what kind of tea dragon would you be and why?
I don't know what tea dragons are!!! Are they something to do with the graphic novel??? I would be whatever one likes to stay at home and be with my family!
(11) Who are your top five fictional crushes?
Mr Darcy from Pride and Prejudice… unoriginal perhaps but the man is a classic dashing hero for a very good reason
Mr Rochester from Jane Eyre… yes I like my fictional crushes to be snooty and arrogant… it's fictional right??? Real life I'd probably show him the door… or lock him in the attic and see how he likes it…………..
Daemon Black from Lux by Jennifer L. Armentrout. A hot alien with lightning abs. Don't ever let it be said that I am not shallow.
Matthew Clairmont from A Discovery of Witches. I've had the hot alien, time for a hot vampire. Don't ever let it be said that I am not supremely basic!
Can I have a TV character?? Eh it's my list so let's go with that. Jordan Catalano from My So Called Life (younger readers of this blog will no doubt be like who??? Teen drama back in the 90s and Jordan was played by none other than Jared Leto.)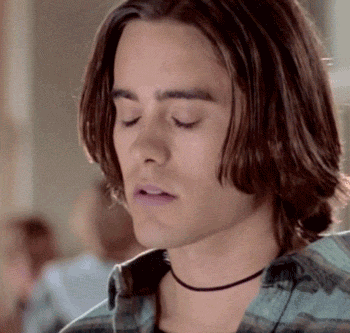 Just look at that 90s style….
---
And that's a wrap on Autumn's questions!
Thank you so much for the award Autumn!! I really appreciated it and utterly loved getting to answer your questions.
---
As I only recently tagged a bunch of bloggers for this award I'm not going to tag anyone new this time around