General Update
Hey everyone!
I hope you've all had a great week and are enjoying your weekend!
Since I started this blog in June 2019, I have not missed a day of posting at least one blog post…
Until now.
Yesterday (Saturday 8th) was the first day that I did not schedule anything. I know this might not seem a big deal but it took a lot for me to admit to myself that I simply cannot keep up with the rigors of daily posting.
If you've been keeping up with recent activity from me on my blog or over on my twitter, you'll know that my health… which is never great being chronically ill anyway… but it has taken a deep, deep nosedive of late. And well… something's gotta give. I would much rather spend my limited energy doing a little more blog hopping and seeing what you are all up to on your blogs rather than put all my energy into ensuring I have a post scheduled for each day.
So I'm going to mix things up a bit.
I'll still post my Goodreads Monday and Top Ten Tuesday posts every week, and a weekly wrap up every weekend. And I will always post reviews of each book I read because I love writing reviews… but there will be fewer tag posts because those ones take up so much of my limited energy. I still love being tagged so please feel free to keep tagging me, but know that there will be a substantial delay between my being tagged and posting.
I don't as yet know what days I won't post on my blog… it will vary based on the number of book reviews I will be posting in a given week which itself depends on my own reading speed… but I will still be around on those days to blog hop.
I know this is quite silly to announce these changes as really they impact no one other than myself… but it is more about letting myself relax and not feel so tied to a schedule, and if I commit to saying I'm going to post less then I am more likely to keep that promise!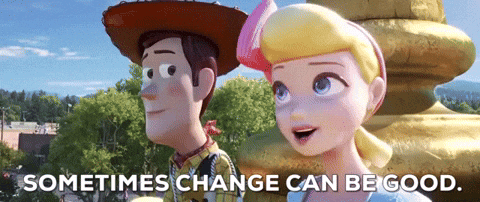 Reading Update
Do I even need to tell y'all what I'm reading???

WOO HOO MIDNIGHT SUN HAS ARRIVED IN OUR LIVES!!!!
And omg it's as hilarious as I hoped. It's a DOORSTOPPER of a book so it is taking me time to read (plus my energy sucks) but heck I'm having a blast!!
I did also read two ARCs earlier in the week.
One four star: Dear Reader by Cathy Rentzenbrink which is a lovely non-fiction that just explores all the joys of a reader's life. Review to come this week.
And one five star: Never Say No by Elizabeth Neep which is a contemporary that I was not expecting to love as much as I did. In fact I loved it so much I emailed the publisher and asked if there was a blog tour which I could get involved with… and there is so my review won't be until September, I'm super excited!!! So if you guys are in the mood for a great adult contemporary with a brilliantly authentic lead character who goes on a great personal journey re turning thirty and figuring out what is important to her, then I HIGHLY recommend you add it to your TBR!
Book Reviews
The following are the book reviews I posted to the blog this week:
Other Bookish Content
And Finally:
Song of the week is Milos Karadaglic and Gregory Porter performing a cover of The Beatles classic Let It Be.
Just soak up those peaceful vibes…