Goodreads Monday is a weekly meme that was started by Lauren's Page Turners. The meme is pretty easy to follow, to participate simply choose a random book from your TBR and explain why you want to read it!
This week's book:
The Vela by Yoon Ha Lee, Becky Chambers, Rivers Solomon and S.L. Huang
BLURB FROM GOODREADS:

In the fading light of a dying star, a soldier for hire searches for a missing refugee ship and uncovers a universe-shattering secret.

Orphan, refugee, and soldier-for-hire Asala Sikou doesn't think too much about the end of civilization. Her system's star is dying, and the only person she can afford to look out for is herself.

When a ship called The Vela vanishes during what was supposed to be a flashy rescue mission, a reluctant Asala is hired to team up with Niko, the child of a wealthy inner planet's president, to find it and the outer system refugees on board.

But this is no ordinary rescue mission; The Vela holds a secret that places the fate of the universe in the balance, and forces Asala to decide—in a dying world where good and evil are far from black and white, who deserves to survive?
Why I Want to Read this
Two words.
Becky Chambers.
Enough said!
But I know… can't leave it there lol! I first heard about this book last year. It was originally released in episodic format with each episode being written by a different writer which made me sound super curious so I added it to my TBR.
Flash forward to this week on Twitter and I see a mutual is reading this and tagged it as a NetGalley read. I IMMEDIATELY was like woah! Why did I not see this on NetGalley??? I would have requested it in a heartbeat. So off I trotted to NetGalley and searched for it… COULD NOT FIND IT!!! Then I thought to myself oh this must be a NetGalley USA thing; I use NetGalley UK because of being based in Ireland. So I trotted off to NetGalley USA to see if I could find the book…
AND I DID!
AND BETTER STILL IT WAS A READ NOW OPTION.
DANCE WITH ME SCI FI FRIENDS…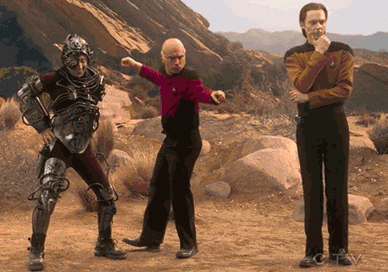 So OBVIOUSLY I immediately downloaded it to my kindle and am hopefully going to read it this week!!! WOOOOOOOO!!
Have you read this one yet? Is it on your TBR? How do you feel about multi-authored books?
Let's chat in the comments below!